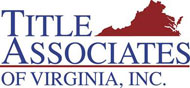 Acqtel Realty partners with Amy Grant of Title Associates of Virginia, Inc. to  provide you with outstanding title and escrow services.
COMPANY PROFILE
Title Associates of Virginia, Inc. is a locally owned and operated title, settlement and escrow company that has been in business for over 40 years. Over those four decades, we have built strong and lasting relationships with some of the top real estate professionals, loan officers, surveyors, attorneys and county employees in Northern Virginia. This is mainly due to our focus on accuracy, professionalism and the highest level of customer service. Our goal is to see that every settlement takes place on time, at a reasonable cost and as problem free as possible.
SERVICES AND AREAS OF EXPERTISE
• We are a full service title, escrow and settlement company able to service Realtors, loan officers and individuals in all aspects of their real estate settlement needs. We offer both residential and commercial services as well as new construction, bankruptcy and 1031 exchange transactions.
• We provide in-house title searches and abstracts, as well as immediate remote recordation of transfer of property and loan documents for Prince William and Fairfax counties. In out-lying counties, we engage the services of the most reputable licensed sub-contractors with whom we have had relationships for over 20 years and for whom we are able to provide proof of errors and omissions insurance. Our typical turnaround time on commitments for properties located within either of these two counties is two days and our goal is five days at most for counties in Northern Virginia.
• We provide in-house review and underwriting for ALL cases that close with Title Associates of Virginia, Inc. Further, ALL title insurance documents are prepared in-house by our underwriting expert who has been with the company for over 30 years. We do NOT subcontract work related to commitments and/or policies.
• We are able to provide title work and insurance for real estate located within any jurisdiction in the Commonwealth of Virginia in a timely manner.
• We offer mobile, evening and weekend closings at no additional cost in order to accommodate our clients' schedules.
• We utilize state of the art processing software – "Frost & Sullivan (F&S) honored SOFTPRO with "Global Customer Service Leadership Award" for having excelled in serving its customers and gaining superior customer satisfaction levels. The award recognizes the company has gained best insights into customer needs and product demands. According to F&S SOFTPRO has identified emerging trends before they became the standard in the marketplace, and has created advanced technologies that will catalyze industries in the near future."
• We have an easily accessible and user-friendly GFE calculator on our website for accurate and reliable fee quotes that are compliant with the most recent modifications to HUD documents.
EXPERIENCE
• Our staff has over 100 years of combined experience, including the owner and Underwriting Manager who have worked together for over 35 years.
• We have handled some of the largest and most complicated multi-million dollar commercial transactions in Prince William County.
• All of our full-time employees are fully licensed insurance agents, Virginia notary publics and highly qualified Settlement Agents, able to handle any closing from beginning to end.
EDUCATION AND TRAINING
In order to better serve our clients, we provide continuing education classes in and around Northern Virginia. This not only provides a much needed service, but it keeps our Business Development Manager and our staff abreast of any and all changes and/or amendments to loan documents and settlement requirements that are mandatory and ever-changing.
PROJECTS OF NOTE
In the last decade, Title Associates has been a part of some of the largest and most complex real estate transactions in our area. Below is a list of some of those projects:
• Construction of the Manassas Hospitality Hotel and Convention Center at Balls Ford
• Northern Virginia Community College expansion at Route 1 and Neabsco Road
• Consolidation, development and construction of the Caton's Ridge Office Park at Caton's Ridge Road and PWC Parkway
• Multi-parcel (12 properties, including 10 in Featherstone Industrial Park) simultaneous purchase closing
• Development and construction of a large portion of Quantico Development Industrial Park
• Lake Manassas Golf Course and balance of commercial parcels purchase closing
• Multiple church and small business insurance closings for both purchase and refinance
REFERENCES AND TESTIMONIALS
"Title Associates of Virginia and their experienced staff are the most attentive and pro-active settlement agency in the area… I've conducted settlements at hundreds of title companies and Title Associates of Virginia is, without a doubt, number 1 in customer satisfaction, working hard to make sure everything goes smoothly, thanks to their truly dedicated staff."
Bob Jurgensen, CRS, GRI
Associate Broker
Weichert, Realtors
(703) 791-6616
"I have had Title Associates of Virginia, Inc. perform my closings for over 10 years! Their attention to detail, their work ethic, the quality of their work is unsurpassed! When I hand them a file – I take it off my "to-do" list because I know they will perform all tasks in a timely manner, they will keep me informed and get it to closing on time, every time!"
Kim Kibben-Wright
ReMax Olympic Realty
(703) 819-7247 (cell)
"If you have not used Title Associates of Virginia in the past may I suggest that you give them a try, you will absolutely be impressed. If you used them in the past give them a try again and feel the difference total commitment to service, ethics and quality mean to your closing."
Steve Bradley
Keller Williams Realty
(703) 330-7683
"I am so pleased to refer all of my clients to Title Associates of Virginia. The office staff is amazing, they are flexible, and offer discounts to my military clients, which is so appreciated! They are always available and responsive. I look forward to working with them for many years to come."
Liz Blackmon, Realtor
Blackmon Homes Team
Allison James Estates and Homes
703-398-6202 (cell)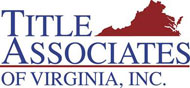 9326 Main Street
Manassas, VA 20110
Tel: (703) 361-4000 x22
Fax: (703) 361-1991
M: (703) 498-0019
Email: agrant@titleva.com
Website: www.titleva.com