Jim Smith, Lt. Col, United States Air Force, (Ret)
Laura Smith, Military Spouse, Professional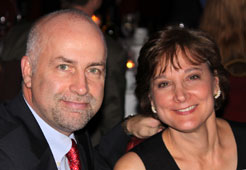 Jim and Laura have fond memories of their military life in the Air Force. Jim retired in 2006 after 22 years of active military service. They still have close ties to their friends and will never forget the bonds of friendship they cultivated both professionally and personally in the military.
Jim is from Jellico, TN and Laura is from Shreveport, LA. Together, they are raising three daughters ranging in ages from 24 to 17. Laura graduated with a degree in Dietetics and enjoyed working various positions in the field of Nutrition and currently is Volunteer Coordinator for the Haymarket Regional Food Pantry. She also keeps busy with the Virginia Extension Service in Prince William County. Upon settling here in Virginia, she decided to try something new and exciting. Based upon Laura's experience with multiple moves over the past 20 years, the real estate field was a perfect fit for her. The communication skills she acquired over time working in the field of Dietetics helped her make the transition from Dietetics Educator to Real Estate Professional.
Jim graduated from Cumberland College in Williamsburg, KY with a degree in Business Administration. He was selected for the ROTC Program while enlisted and assigned to Barksdale Air Force Base in Shreveport, LA. He attended Louisiana Tech University full-time and received his MBA. Jim's assignments ranged from Squadron Commander of Security Police at Dyess Air Force Base and the Civil Engineering Squadron in Okinawa to the Special Access arena as an Airframe Contracts Manager in Ohio, and as Deputy Chief of Contracts Division in Los Angeles AFB. While in Northern VA, Jim filled several assignments at the Pentagon and NRO such as Executive Officer for the Director of Space Acquisition and Director of Special Access Contracting.
Moving to unfamiliar areas, searching for the perfect home, and changing jobs can be daunting for anyone. We have the experience and empathy to make your move to the Virginia area stress-free and successful. We are committed to giving our clients the highest quality service they deserve when relocating to or moving from the metro DC area. Jim and Laura founded Acqtel Realty to help families navigate through the difficult process of buying or selling their home. After years of frustrating experiences relocating in the armed forces, we understand how stressful moving can be.
Buying or selling your house should be an exciting time, and our agents will personally guide you through each step of the process. We feel very strongly that communication is the first step to finding your new home or selling your existing home. Whether you contact us by phone or e-mail, you can expect a quick response. We will listen carefully to your needs and you rest assured that you will be treated like family. We are a locally owned business and actively give back to the community through volunteer organizations such as the Haymarket Food Pantry and Wounded Warriors. We have been proudly serving Haymarket and the surrounding area since 2003. Our knowledgeable team of agents has over 50 years of combined real estate experience.