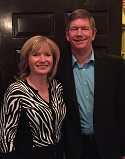 L.A. & Sherry (Team Acqtel) reside in Ashburn, Virginia and are both Real Estate Agents working for Acqtel Realty, Inc. located in Manassas, Virginia. They are passionate about real estate when it comes to working with their clients. They are a team to be reckoned with and will leave an ever lasting impression on you. L.A. & Sherry understand your needs and are professionals when it comes to finding or selling your home. Their years of experience in relocations will be a great benefit in taking care of you and your family.
L.A. is retired from the U.S. Air Force having served his country for 22-years. He currently works in Washington, D.C. for the Commodity Futures Trading Commission (CFTC) as the Chief of Security responsible for the Headquarters D.C. office and outlying regional offices in New York, Chicago, and Kansas City. L.A.'s broad background of experience and performance is attributed to his drive in helping others any way he can.
Sherry has 20+ years in sales and marketing. Sherry's high spirited attitude, hands-on experience and untiring devotion to her family helped set the tone for smooth transitions during their relocations. She fully understands what it takes to find a new home in a new area which will meet the needs of a family, encompassing all the necessities such as schools, medical facilities, and shopping centers.
As an Acqtel Realty team, both L.A. & Sherry continue to expand their wealth of knowledge and experience in the ever growing demand for real estate! Both have the skills, honesty, can-do attitude, and personality to gain client satisfaction in finding that dream home! Please give them a call or e-mail and let them help you.
LA.Harding@acqtelrealty.com (703-409-6807)
Sherry.Harding@acqtelrealty.com (703-973-6133)