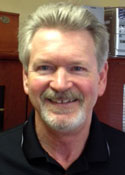 Mark retired in 1997 after 21 years of active naval service and has worked in the defense industry for over 14 years. A career U.S. Navy officer and businessman, Mark has over 35 years of experience supporting the U.S. Army, U.S. Navy and U.S. Air Force in the areas of security, business management, cryptologic operations, intelligence analysis and production, project management, information warfare, signals intelligence, and systems acquisition.
Mark is adept at managing people and resources, experienced in recruiting, training, motivating, scheduling and supervising over 200 professional, technical, and administrative personnel. He has a track record of successfully establishing new intelligence and security sites, offices, and unique activities world-wide. As a co-founder and of Trinity Technology Group, Inc., he was instrumental in the successful growth of the company with over $20M in revenue and 250 employees in nine short years.
Moreover, Mark served as an intern at NSA, a three-time Officer-in-Charge, a Department Head, and a Staff Cryptologist for a US Navy fleet staff. He is a certified Professional Traffic Analyst with the National Security Agency, and a former Chinese-Mandarin linguist.
Over the years, Mark has developed a keen interest in helping people, ensuring their success in life. He wants the best for everyone and is very effective in helping those around him find happiness.