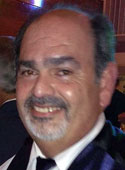 I was born in East Chicago, Indiana a small steel mill city approximately 25 miles southeast of Chicago. I attended East Chicago, Washington High School where I played four years of football and baseball. I was a Police Cadet at the age of 18 and was sworn in at 21 as an East Chicago Police Officer in Indiana.
In 1980, I became a Special Agent with the Drug Enforcement Administration. I am 26 year retired supervisory Special Agent and have made Virginia my home. I am married with three adult children. I have been a resident in Northern Virginia for last 16 years. I am an active member with The Fraternal Order of Police Lodge #69 in Loudoun County, VA and also a member of the Northern Virginia (Blue Ridge) Iron Warriors Motorcycle Law Enforcement Club.
I have lived in many places throughout the United States and overseas. Of all of the places I have lived, the quality of life here in Northern Virginia is second to none. I am very proud to have joined and teamed up with real estate brokers Jim and Laura Smith from Acqtel Realty Inc. in Haymarket, Virginia. I believe in their goals of professionalism, loyalty, honesty, confidentiality and emphasis on customer service.
Why select Raul Morales?
I am a people person and I truly enjoy working with people of all ages and different ethnic backgrounds. I am friendly, professional, diligent and am extremely enthusiastic in finding you a home. I am also bilingual and speak Spanish fluently. I will listen to you and as a long-time resident, I possess an inside understanding of the Northern Virginia housing market and am very goal oriented. I have moved frequently during my law enforcement career and understand how important it is to find a home quickly that suits the needs of your children, spouse and work commute.
You have all of the amenities in life that you could ask for in Virginia: museums, civil war battle fields, historical sites, education, sports, universities, entertainment (theater, comedy shows, and concerts), restaurants and nightlife. If you let me work with you I am sure I can find the dream home you have been looking for whether it will be short or long term. I have seen the market change and fluctuate here in Northern Virginia. There are so many nice locations to live in Virginia; it doesn't matter whether you are single, just married or have a family with children, I can find the right house for you.
I can't promise you a lot of things but I can promise I will do my best and give you 150% of my time to find the right house for you and or your family that you can enjoy and works for you. I can be reached at Acqtel Realty Inc. at 703-772-2099, Raul.Morales@acqtelrealty.com.