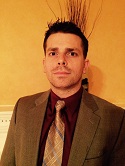 Mike, a Northern Virginia resident for over 25 years, earned his undergraduate degree in Finance from the University of Miami and actively purses his MBA with a focus in Acquisition and Procurement. Mike enjoys his free time as a real estate investor, self-proclaimed mechanic, an entrepreneur, a somewhat-handy-man, and a father. Mike's professional experience, in addition to real estate, includes Government on-site support as a principal financial manager and program controller, and numerous years as a principal acquisition and procurement professional. His experience in Government contracts, corporate finances, and a seasoned negotiator, provide very powerful tools during real estate transactions.
In addition to his industry profession, Mike is a combat veteran having been deployed as an Armor Officer to Baghdad from 2008-2010 and currently serves in the North Carolina Army National Guard. Mike can relate to the difficulties during frequent moves and a transition to a new area and will provide sound advice regarding opportunities surrounding military installations in the National Capital Region. Although deeply seated in the Department of Defense, his true passion remains with the real estate market of Virginia. This area of the country has many wonderful and unique opportunities offering a niche for virtually any individual or family. Mike is personally invested and constantly monitors neighborhoods within Virginia. Whether you are looking to grow a family, downsize, rent during a PCS move, or simply want to invest, Mike will be there to support you with genuine enthusiasm for finding the perfect solution to meet your needs.
Please contact Mike for a fresh start to real estate; dedication to your real estate needs is the number one priority.
---
Michael Mazie can be reached by email.